About Us
---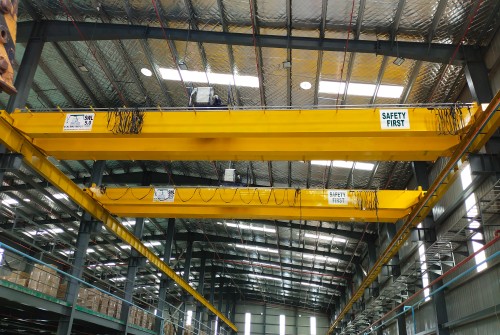 MH Cranes and Engineering, Chennai, established in the year 2013 with the vision to be a "One stop solution to your lifting needs". Thanks to our customers for the continuous support and patronage MH Cranes is now the "Top Leading Overhead Cranes and Hoist manufacture in India."
Our range of standard, Industrial Lifting products is ensured of their cutting-edge technology and high-quality performance. It comprises of Gantry Cranes, Electric Overhead Travelling Cranes (EOT cranes), Portal Cranes, Gantry Cranes, Electric winches, Jib Cranes, Crane Components, Crane spare parts of all brands and Under the Hook Lifting Gears. At our state-of-the-art manufacturing facility at Chennai, products are manufactured to global standards. Factory equipped with latest machine tools and necessary infrastructure to manufacture Cranes up to 120 Ton capacity. Higher capacity cranes and engineering cranes can be manufactured on special request.
30+ Our professional service team of veterans in the crane business is dedicated to ensure an operative crane in your work site and ensure our customers are delighted when they choose MH Cranes as their Lifting Partner and backed up with quick and efficient post sales service.
Business Journey (Milestones)
In 2017, MH Cranes Achieved new project orders to government sectors (URC – CMRL Project, CSIR and IGCAR.
MH Cranes Achieved new projects order from EMERSON process management Chennai Pvt Ltd and Tempel Precision Metal Products Pvt Ltd and our Employee strength increased to 15.
In 2015, Employee strength increased to 8 Person after achieves few orders from MNC companies.
Inaugurated in Year 2013 with 4 employees with the investment of 10 Lakhs.
We achieved the turnover of Rs.10 Crore in 2021.
In 2020, Our Employee strength increased to 30 and MH Cranes Achieved New projects from ONGC and we achieved the turnover of Rs.9 Crore.
In 2019, Our Employee strength increased to 20 and our turnover exceeds Rs.6 crore.
In 2018, MH Cranes developed own Hoist and Cranes up to 60 Tons and we invested up to Rs.50 Lakhs for additional facilities.
Industries We Cater
General Engineering
Automobile
Textile sector
Construction
Steel industry
Wind mill
Paper mill
Power or Energy sector
Oil and Gas
Chemical industry
Space research
Our products are widely used in
Equipment manufacturing
Automobile industry
Transportation and logistics
Energy industry like windmill
Metallurgy
Shipbuilding and many other fields